Learning a Language Later in Life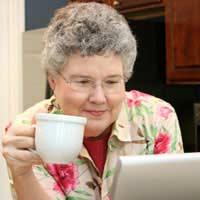 Learning a language later in life is not the easiest thing to do but if you are determined and set your mind to it, it can bring immense pleasure and numerous rewards. Most people who can speak more than one language fluently have learnt them as children or at least started to learn as school pupils.
This is because children can soak up language much more easily than adults, especially if they hear it all the time when they are learning to speak. However, there are advantages to learning a language later in life.
Freedom
Of course, the main advantage to learning a language later in life is that you have the freedom to go where you want and do what you would like. Children with bi-lingual parents are often the only children who get to become fully immersed in the second language on a regular basis. Other children and younger students of language have to wait until the opportunity presents itself to travel to the country where their language is spoken, which may not be that often.
But if you are learning as an adult, then the chances are, you will have the means to travel as often as you like to somewhere where the language is spoken. In addition, as an adult you will be able to use the internet to fund like-minded people to converse with in the language of your choosing.
Pleasure
Another good reason for choosing to learn a language later in life is that you will almost certainly be doing it for pleasure. A small child being brought up in a bi-lingual house will speak both languages because it comes naturally while a school child will do it because they are told they have to.
But as an adult, you are learning a language for pleasure usually and thus practising and learning new things becomes enjoyable and not a chore. You will derive pleasure from each step that you take along the path to fluency and also from those times that you are able to put your newfound language skills into action.
Intelligence
If you are learning a language later in life, you will be able to use the skills and intelligence which you have picked up throughout your life to help you to learn the language. This might include ways of remembering things or general ways of word association. But all of the intellect you have acquired since leaving school – practical and theoretical – will help you in the acquisition of a new language.
Of course, there are times when you will not be learning a language later in life for pleasure, usually if you are told you must learn one for work. But if you look upon this as an opportunity to boost your skills rather than a chore, as schoolchildren would do, then you can still expect to gain the same benefits from it.
Learning a language later in life can be hard but it can be tremendously rewarding and when you are able to travel to France, Spain or wherever they speak your language and converse with the locals, you will know that all of the hard work has been worth it.
You might also like...