Encouraging Your Child to Learn a New Language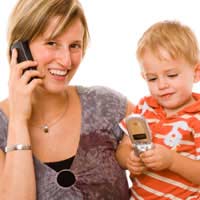 Encouraging your child to learn a new language is a great way to set them up with an important new skill for life. If you encourage them to learn a new language from an early age, it will be easier for them to learn and they will be fluent before you know it.
In addition, at a young age, they will enjoy learning new words and sounds rather than seeing it as a chore. This will also help them to learn quickly.
Bi-Lingual Children
Children who grow up with their parents speaking two languages learn the second as quickly and easily as the first. This is because they are immersed into the language from the start of their life and hear it every day. Thus they pick up two languages as easily as most children pick up one.
If one parent speaks one language and the other, the other, there will be no confusion either as the child will always associate the one language with the parent who speaks it to them. They do need constant practice to make sure they remember the words they are immersed in from a young age, but when they hear and use the language every day, they will be-lingual in no time.
Fun
Once a child is of secondary school age and they start to learn languages in school, it becomes a chore rather than a pleasure. But by encouraging your child to learn a new language before they reach that age, they will realise how much fun learning languages can be. And by learning new languages at a young age, they can delight in learning about the culture and habits of people in the countries where that language is spoken.
One Language Leads to Another
Once one language has been learnt, others can be learnt more easily. Especially in the case of the Romance languages which all share Latin roots – this gives your child an advantage for later in life.
If you encourage them to learn French, for example, when they are at secondary school they might choose to learn Spanish. The skills they have employed in learning that first language can then be put to good use by learning a third or even fourth.
Encouraging your child to learn a new language is a great gift which you can give to them. If you or other family members are bi-lingual yourselves then you have a great opportunity to teach the children the second language anyway. But even if you are not bi-lingual, you can take your child to language classes where they will meet other youngsters and have fun. Then you can also compare their progress against other children.
Later, when they attend secondary school, they have a massive advantage over those children who have no language skills at all. This will filter on throughout their life and will stand them in good stead forever – in work and play for being able to speak more than one language is something which will always be a valuable skill to have.
You might also like...