Correct Pronunciation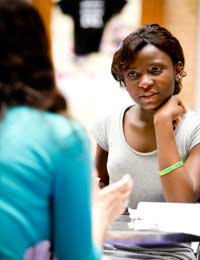 Learning the correct pronunciation of a new language is half the battle in sounding natural. Learning the words and grammar of a language is one thing but to be able to converse naturally and sound good doing it one must employ the correct pronunciation.
Getting the right accent cannot be taught, it must come naturally, and it does not always follow that those who can speak a language well – grammatically speaking – will have a good accent. But one way to improve an accent is to learn the correct pronunciation.
Each and every language has different pronunciation and the same latter can be pronounced in a multitude of different ways depending on what language it is and what other letters it is combined with. In addition, in most languages, accents and other inflexions are used to denote pronunciation and stress and so a letter can be pronounced in three or four different ways depending on what marking is above or below it.
International Phonetic Alphabet
The International Phonetic Alphabet was devised to give a standard notation to all possible pronunciations of a word. It comprises a set of symbols, which are pronounced the same way in all languages. Many language textbooks and dictionaries will follow a word with it's 'spelling' in the International Phonetic Alphabet to aid correct pronunciation.
There are many symbols and combinations of symbols but it means that anyone who has learnt what these symbols means can pick up the correct pronunciation of a word without hearing it spoken.
Listening
But when all is said and done, the best way to learn the correct pronunciation is to hear the words spoken. Hearing a native speaker pronounce the word, and then mimicking them, is the best chance a non-native speaker would have for correct pronunciation. In fact, in some cases, it may even be better to hear the word spoken first, before seeing it written down. This may particularly apply to complete beginners who have not yet mastered the art of pronouncing words in a different way to if they were written in English.
You would only have to show a beginner the French word 'table' to see that this is the case. Written exactly the same as the English word but pronounced in a completely different way, a beginner may well try to say it in the same way.
Pronunciation can be a tricky thing for a beginner. Even the same language can have differing ways of pronouncing a word – this is what gives rise to different accents. You only need to listen to an English person and an American say the word 'aluminium' to hear the vast difference in pronunciation.Even people of the same nationality can pronounce words differently – such as in the case of the place name Shrewsbury.
There really is no substitute for hearing a word said correctly to learn the correct pronunciation yourself, although it is not the end of the world if you mispronounce a word. Much of the time the other person is bound to be able to understand your meaning from the context, even if the pronunciation is not quite correct.
You might also like...