Languages In Demand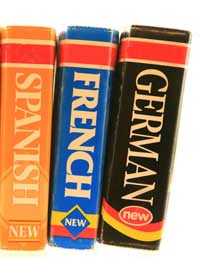 The languages in demand vary depending on economic conditions and other variants, although there is always a core of languages that can help find a job. Languages are an important skill and one that is becoming rare, so learning a foreign language to a high degree of fluency will always be an aid in finding a job, even if it is not a translating job. With the world growing ever smaller, opportunities for travel and business between countries are more numerous than ever. In such a competitive market, employers will value employees who have a command of the language spoken in their key markets.
The Big Three
There are three languages that are always useful to know, because of the amount of countries they are spoken in outside the one where they originated. Whatever the business conditions, people who speak English, French and Spanish will always be welcomed with open arms. However, French and Spanish are two of the most commonly spoken foreign languages in the UK so learning them will not give you such a unique advantage as you might think. While relatively few people actually speak them fluently, there is a larger pool of people to choose from than some of the more obscure languages.
New Powers
China and India are growing ever more powerful in terms of business. More business trips are being made to these countries than ever before and their power means they are coming to have an influence in the UK as well. A Chinese firm bough MG Rover and an Indian super-firm bought Corus, previously British Steel. So knowledge of any of the Chinese or Indian languages will stand you in good stead. Employers who have links with the countries will be looking for someone who can speak one of these languages well so they may be able to communicate without English and without interpreters. These languages are, without doubt, more in demand now than ever in the past.
Europe and Beyond
Now that the EU is as tightly knit as it is, there is more trade between the countries than ever before. Languages are becoming more useful, and companies that may have never heard a word of Polish a few years ago could now be actively looking to recruit people who speak the language. Because of the influx of people from countries such as Poland into the UK some companies may even be looking for Polish speakers to teach their other employees English.
As well as Polish, employers will be looking for the ever popular German speakers but also those who know Hungarian, Estonian and Czech. However, employers are not limiting their endeavours to the borders of the EU. Places such as Russia and Turkey are becoming more popular for businesses and so knowledge of these languages is always going to be an asset. They too are becoming languages in demands from companies looking to expand the list of countries they do business with.
Whatever language you choose to learn, there will always be some use for it. But make no mistake about it, especially when it comes to jobs, there is a definite list of languages in demand, which will help you progress in your career. There are other languages, which are only spoken in their own country by a small number of people, which are simply not in demand. This does not means you will not gain anything from learning them but it does mean that you may not be able to find an employer as keen to take you on as if you had the skills of language speaking for an up and coming country in terms if business.
You might also like...