Languages with Different Alphabets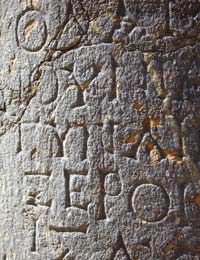 For English speakers, one of the hardest things to come to grips with when learning a language such as Chinese or Japanese is the fact that these languages use different alphabets. To learn a whole new system of writing down a language is a task in itself –not to mention the fact that these languages are usually structured in a completely different way to English and other languages in its family.
The Latin Alphabet
The Latin alphabet is the alphabet the main languages of Europe use. It is the alphabet you are reading now and the only alphabet many English speakers will be familiar with. It is one of, if not the, most widely used alphabets in the world. The Latin alphabet is so widely used that many other languages which do not use it, such as Greek and Chinese, use a system of transliteration whereby the words of their language are replicated in a Latin alphabet so that anyone will know how to pronounce them as long as they are familiar with the Latin alphabet. These transliterations are often known as Romanizations – after the Roman Empire which led to the spread of Latin.
The Greek Alphabet
The Greek alphabet today is only used to represent the Greek language. However, it is of huge importance because it was the alphabet from which the Latin alphabet derived. And yet it is the Greek language which is given a Romanization, rather than the other way around. This is because only Greek people and scholars of the language and classics will be familiar with this Greek alphabet in today's world. However, every schoolchild will be familiar with some of its letters, for alpha, beta, gamma, delta and many others are all used as names for items in fields which Greeks have historically excelled such as science and maths.
The Greek alphabet has also given rise to the Cyrillic alphabet – used in Russia and Bulgaria among others. The Cyrillic alphabet looks very similar to the Greek alphabet and is used differently in the languages which use it. So, all of the letters which appear in one Cyrillic language will not necessarily appear in another.
Languages Using Characters
Chinese and Japanese – and some other languages of the Far East – use complicated looking characters rather than the type of alphabet we are familiar with in the UK. These characters have traditionally made up one syllable. There are tens of thousands of them in existence for each language and consequently, learning these languages can seem more than a little daunting. A small number of characters also represents whole words and are known as pictograms.
Other Alphabets
Of course, there are many more other alphabets including the scripts used in Arabic languages. Arabic script is a beautiful looking cursive script which reads from right to left – another tricky aspect for would be learners of the language to get their heads around.
This article can only ever start to touch the surface of all of the many alphabets in the world. Just like the languages themselves they have grown up out of a predominant alphabet in their geographical localities – so Greek for Europe, Chinese for Asia and so on. Although it may be tricky to master them, once this is done, the satisfaction at being able to read a whole new alphabet is immense.
You might also like...