Usefulness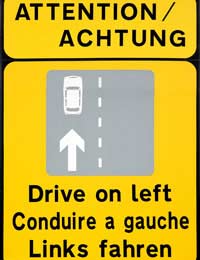 Language skills are always useful no matter which language it is and how much you learn of it. But there are always varying degrees of usefulness for a language. These degrees of usefulness can change depending on why you need to learn a language and how much you plan to speak it. It can change if you only want to speak it and listen to it, or whether you are more concerned with reading and writing. It depends on whether you are learning for business or pleasure, to talk to friends and family or strangers. And, of course it depends on where you are travelling to.
Travelling
When travelling, the usefulness of a language can roughly be measured by how many countries you will go to where people will speak it. English is always a good language to learn if it is not your native language because so many other people speak it. Other than this, French, Spanish and German are all incredibly common, especially in Europe, and, for French, Africa, and Spanish, Latin America.
You will find a smattering of either French or Spanish will come in extremely useful in many circumstances. Of course, there may be places you will travel to where the usefulness of these languages is debateable - mostly countries such as China or Japan though. In these sorts of places, naturally, the best and most language to use is the native language. But it is not many places in the world that a traveller who has English, French or Spanish cannot get by.
Work
The usefulness of languages for work will obviously depend on the type of business you are in. Although some languages, again, the major European ones being included in this, will always be useful, languages now in high demand include Indian languages such as Punjabi and Chinese ones such as Mandarin. This is because these countries are starting to be major players in business and thus British companies are often on the lookout for someone who will be able to communicate effectively with people there.
Standards
The different standards taught offer a varying degree of usefulness, again, depending on why you want the language. There are many courses that offer holiday level language skills, which are of great usefulness to people who want to go on holiday. Similarly, there are courses tailored to business travel, which is again useful for those people. You can even take intensive courses, all day every day, if you are planning to move abroad.
The usefulness of languages is never in dispute. learning a foreign language is perhaps one of the most useful skills a person can acquire. But language learning is fun as well, as is practising the new found skills when you have sufficient confidence. It is always useful to be able to read the language if you are visiting a different country, to understand signs, and also to understand the spoken word. If you only need to 'get by' then the usefulness of writing is diminished, but all four skills will help your language skills so you should try to concentrate fairly equally on each.
You might also like...