Choosing a Language For Children to Learn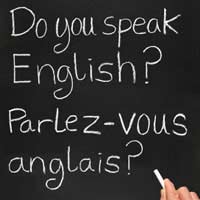 Choosing a language for children to learn can be a difficult decision to make. It is no longer just a case of a child learning a single language at school. Many schools now offer a wide range of different modern foreign language options. Being able to select from a range of different languages is exciting, but it is also challenging. Parents and guardians have to make decisions that are based not only on the child's needs now, but also for the future.
Things to Consider when Choosing a Language for Children to Learn
Learning a foreign language is an increasingly important life skill. There are many factors to consider when choosing a foreign language to learn. These include:
Long term opportunities – while it might be difficult for a parent of a very young child to look too far into the future, an important reason for learning a foreign language is for future career development. Whether or not the long term aim is for a child to work in another country, a good working knowledge of a second language is a useful skill to have and is recognised by many employers. When assessing the benefits of different languages, looking for languages that may provide a long term career opportunity can be very useful. Talking with the school careers advisor may be a good way to get additional insight about the importance of different languages.
Family needs – these can be wide and varied and include learning the language of family members who live abroad or who have a different first language. If there are good family or personal reasons for learning a language then this can have additional benefits as it means that the child can be supported at home as well as in school. This can have far reaching benefits and can really help a child to develop their language skills.
Availability and resources – whilst it is possible to learn virtually any language, it is important to consider the availability of good quality teaching and support. The more common foreign languages are likely to have much better levels of support and additional teaching facilities. This includes established exchange programmes and other important activities. More popular foreign languages are also easier to access away from school. Libraries, for instance, have a wide range of support material for many languages that are suitable for children of all ages.
Local factors – when deciding which language a child should learn, it is also important to take into account any local factors. If a new business is opening which has foreign owners, for instance, learning the relevant language may help with future career opportunities.
Reasons for Not Choosing a Language
There are also some factors that should not influence the decision to choose a certain language. A very good teacher with an excellent reputation, for instance, may be a persuasive reason to pick a certain language. That teacher, though, may move schools or leave the profession and there is no guarantee that the replacement will be of the same standard or experience level. Remember that the decision is long term and the implications will last for many years to come.
Where to Get Further Information
Schools are one of the best sources of information about language learning opportunities. In addition to speaking with the language teaching staff, other staff such as the careers advisor may also have a useful insight to share. Asking about additional resources such as exchange programmes or the availability of additional books from the library is also useful. Other parents will also often be happy to share their experience and reasons behind their choice of language. This can be another useful way to get an important insight into the process of choosing a language for a child to learn.
Deciding what is the best language for a child to learn can be a challenge, however there is plenty of support available to help parents make the right decision.
You might also like...