Writing and Speaking - the Relationship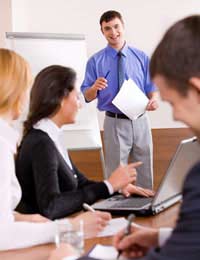 Writing and speaking have a close relationship within languages as they are both about the person going them creating language. Many beginners shy away from creating language, preferring instead to concentrate on listening and reading, those aspects which are centred on understanding other people's language. But writing and speaking help everyone to get better at the language and understanding how it works. Not until you have put the skills into practice in writing and speaking yourself can you truly appreciate how the language works.
Speaking
Making your first foray into speaking a foreign language and holding a full conversation with a fluent or native speaker are two very different things. But there is only one way to get from one to the other and that is to practice. Speaking will be most people's first proper chance to create language of their own - whether they are babies learning their first language or adults learning a brand new foreign language. It is speaking which paves the way for you to create more language in the form of writing. Speaking allows you to make mistakes which writing does not. In speaking, no one will know if you do not know how to spell a word or if you confuse two similar sounding words. These problems need to be ironed out when writing but at least you will have had practice in creating your own language by that time.
Writing
Putting pen to paper forces you to iron out the grammatical and spelling mistakes which may have gone unnoticed when speaking. And of course, writing also gives you chance to check and check again before anyone reads it - a luxury not available with speaking. It means you can re read what you have written and pick up on any mistakes. You can ask others to check it for you before it reaches its final destination. But this process of checking and double checking will also make your speaking improve because you will be able to visualise the words as you are saying them and see where they would go if you were writing it down.
Creating your own language is exciting and fun - and is the one surefire way of making sure that you are making progress in the language of your choice. Speaking the language is one of the best ways of improving your language skills, as when you have a conversation with people they will correct you if you are wrong and also speak back to you in language that you can pick up and re-use yourself. Writing ensures you can make sure your language is correct before moving on.
Of course, the two facets must be paired with reading and listening to gain a full appreciation and skill in the language you have chosen. Only when all four aspects are worked at will you become fluent in the language. But the more you practise one the more the others improve. With regards to the close relationship between writing and speaking this counts double. One will help the other to improve, pulling up your overall standard.
You might also like...