Reading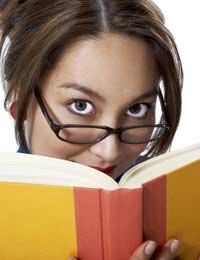 Reading is one of the four key components of learning a language. Along with writing, listening and speaking, it is one of the four skills every language learner will need to perfect. However, it is also arguably the skill that is the most useful, whatever the reason for learning the language. If you are a tourist, being able to read the signs and notices will be useful. If you are learning for business, it will be useful to understand commands and emails sent to you. If you are learning because you know someone from the country where the language is spoken, you will be able to read emails or letters from them. But of course, no language learning is complete without learning all four facets of the language.
The Four Skills
Reading is most different to speaking. It is like listening because they are both understanding facets rather than creating. It is also like writing because they both involve the written word rather than the spoken. But all four elements have a relationship, which means learning one can help the learner to pick up the skills of other areas. If you want to become truly proficient in a language, you need to be able to speak, read, write and listen to a language.
Practising Reading
Practising reading is possibly the easiest of all four skills. Because for the written word you do not need to have anyone else there, for reading and writing you are not totally reliant on someone else helping you. But for writing you do need someone to help correct what you are putting down. But for reading, you can just enjoy a story or make sense of a letter as you would in English without any help. The best way to learn the skill of reading in a foreign language is to buy translations of books you are already familiar with. To begin with, do not be embarrassed to buy translations of children's books you know well. This will work well for two reasons, because you are familiar with the stories anyway, you will follow the plot, and secondly, because they are written for children, the language will be simpler.
After this, you can move onto reading translations of adults' books you enjoy. Then you can read books in your language that you have never read before. Descriptive books are good – Marcel Pagnol in French is a good example. Once your reading has reached a good level, you can try buying newspapers in the language you are learning. As well as teaching new words to you, you can keep up with what is affecting people who live in the country where your language is spoken. Nowadays you can read many newspapers online.
Reading in a foreign language will help your writing, speaking and listening, just as it does with your mother tongue. Your vocabulary will improve and you will learn the grammar structures and how they are used. Not only that, but by reading in the language you have chosen to learn, you will gain more enjoyment from the language.
You might also like...