A Few Letters At A Time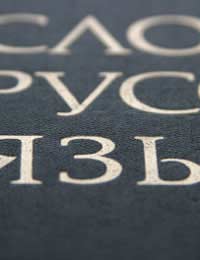 For English speakers learning a language such as French, Spanish or German, while not easy, is at least not hindered by having a new alphabet to learn. But there are other languages, which are written, in an entirely different alphabet. The best way to learn these alphabets – which is necessary to learn the language – is a few letters at a time.
English and most other European languages are written in the Latin alphabet. The one advantage English speakers have over speakers of non-Latin alphabet languages is that Latin versions of most other languages exist.
So, for example, although Mandarin Chinese is represented using symbols, there is also a system called Pinyin, which translates these symbols into words using the Latin alphabet. The same applies to Greek, and other languages. This means that English speakers can learn the language as it sounds and reads in a Latin alphabet and then tackle learning the new alphabet a few letters at a time when they feel ready.
Cyrillic Alphabet
The Cyrillic alphabet is commonly used across the former Soviet Union and countries, which were once aligned to it through communism, such as Bulgaria. It varies in form slightly depending on which language is using it, but some of the main characters crop up in all of the languages it is used in, and it is easy to spot a language that uses it.
Learning the main sounds of the letters is the bets way to learn, starting with a few letters at a time. The Cyrillic alphabet does share a good deal of characters with the Latin, so it will not be completely alien to English speakers.
Greek Alphabet
The Greek alphabet is one of the oldest, if not the oldest alphabet in existence today. In fact, the very word 'alphabet' derives from the Greek system as the first two letters in it are called alpha and beta. Every schoolchild is likely to be familiar with at least some Greek letters as they are frequently used as mathematical and scientific names, such as pi and sigma.
In addition, students in the USA use the names of Greek letters, and combinations thereof, to name their fraternity and sorority houses, making the letters familiar sounding to anyone who has ever watched a movie set in a US college.
So most people, when they start to learn Greek, are at least on the way to learning the alphabet, learning a few letters at a time, even if it is only the names of the letters they know and not the sounds they make.
Arabic and Other Scripts
Arabic is even harder to master as it runs from right to left. Its letters are always written in a cursive form and may be joined to other letters depending on context. This means that for Arabic – and other scripts, such as Hebrew - it is more important than ever to learn a few letters at a time so the beginner will know how to spot each letter regardless of where it appears in a word.
Although different people will find different languages easier or harder to learn, learning a whole new alphabet does generally make a language even more difficult to learn. Therefore, it is vitally important that the person studying the language has learnt the alphabet properly.
A few letters at a time is the best way to do this to ensure they do not get confused. If letters do become confused, writing can quickly become incomprehensible and so it is important that the alphabet is mastered from the outset.
You might also like...