Taught Classes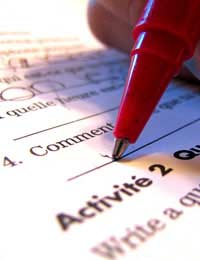 Taught classes are the way that most people learn a language or at least use for their language learning process at some point. Taught classes are the way children in schools are taught languages and they have a good degree of success. But the key to taught classes is whether the person wants to learn or not. In schools, children may not have a choice about whether or not they learn a language or even what language they learn. If they are resentful they will not pay attention and will not learn. But, as adults have generally chosen to take taught classes then this problem does not apply. Instead, when looking for a taught class, there are a few factors you should bear in mind when making your choice if you want the classes to be as successful as possible in teaching you the language.
The Teacher
Always look for a class that has a native speaker of the language. They do not necessarily have to be from the country where the language is spoken, they could have been brought up speaking the language alongside English from childhood. In fact, these people often have an advantage as a teacher because they know how both languages work and how they interact with each other.
But the biggest advantage of choosing a native speaker of the language is the accent. You will pick up the accent of the people from whom you learn. That is why it is important to get away and converse with other native speakers at some point. But nowhere is this more formative than in taught classes. If you learn from a native speaker or a speaker with no hint of an English accent when they speak in the foreign language, you will pick this up and sound more natural as a result.
The Class Size
The class size is important when choosing a taught class. You may want to go for one that costs less money but look at how many people they have in each class. If there are over 30 people in a class, you are not going to get the attention you will need while learning. The teacher will not be able to devote time to each person, and as a result, those who excel or struggle may monopolise the attention, leaving you with very little one on one tuition. So, look for a taught class with smaller class sizes and make sure the place you are learning offers levels of teaching. You do not want to walk before you can run and therefore always start with a beginner class. That way, people who already have some knowledge will be in a different class and will not take up the teacher's time and you will all start to learn at the same rate.
Opportunities for Travel
Although you can obviously make your own travel arrangements when you feel ready to go to the country where they speak the language, if a taught class offers the option to join an organised trip, take it. The teacher will have contacts in that country who can teach you more or even with whom you can stay. And travelling as a group means that if you find yourself stuck in an area where no English is spoken and cannot remember any words, you will have people to come to your rescue.
Taught classes can be used at any point during your language learning experience. You may choose to start with them, and this is a very good idea, then move onto language exchanges and trips abroad. Or you may start your learning with tapes and books at home before moving on to an arena where you have some human interaction. Whenever you choose to take taught classes, they are a vital part of learning a language, and everyone should make the most of them at some point to maximise the amount they learn.
You might also like...