Enjoy The Culture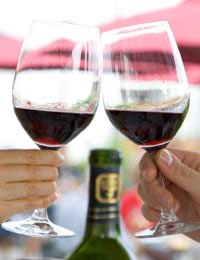 Language is a way of immersing oneself into a culture and likewise, learning to enjoy the culture of a place is vital to perfecting language skills. All languages have idiosyncrasies unique to that particular language and culture and by learning them and knowing them you become indoctrinated into a club where you can enjoy the culture of a place more because of your superior knowledge of the language. A person can know a language technically perfectly but they would need to be able to speak like a native to truly enjoy the culture.
Food and Drink
Most cultures and countries have big rituals and routines surrounding food, drink and meals and therefore, to learn these routines and to know why they are carried out will help a visitor to enjoy the culture.
Language is a big part of ritual at mealtime – one only has to think of the word 'Cheers' to realise this. The word does not really means anything as such – it has long since lost its original meaning of wishing one good cheer, and is now simply a catch-it-all phrase to signify celebration. And although there are corresponding phrases in most languages, such as sante in French, they are often not literal translations – as each country has its own variation of this tradition. But the one thing that remains constant is that the word itself is important and that motion of clinking of glasses is always accompanied by the word. And it is this sort of ritual that helps a visitor to enjoy the culture rather than to watch from the outside.
In many languages, the names of foods are also interesting to translate literally. And visitors should know these dish's names and why they are called such, because if they do not and try to translate them literally, they may end up very confused indeed.
One very good example of this is the Turkish dish Imam Bayildi – it literally means the priest fainted! There are several theories to the origin of the name – including one that says the priest fainted upon tasting the food, and one where he fainted upon seeing the price of the olive oil that had been used. One thing is for sure though, and that is that a foreigner would need to know what the dish was as well as its literal translation.
Slang
All languages have slang words and phrases. Most word-perfect speakers of a foreign language will not necessarily know all of the slang words as well. And knowledge of slang is a good way to immerse yourself in the culture and enjoy the culture of the place you are visiting.
There are different types of slang, including youth slang and colloquialisms, and many of these types fade in and out of usage. So knowing slang 20 years ago probably would not stand you in very good stead today. But to enjoy the culture and to socialise with native speakers of the language means you will learn their slang and how and when to use it.
Slang is not a problem restricted to different languages – even people who speak the same language can have problems understanding all of the slang – such as Australians in the USA and vice versa.
Enjoying the culture of the place you are visiting is crucial to any trip abroad. Immersing yourself in the culture and the language will help you to do this. Language is such a vivid and vibrant means of communicating that it delivers concepts, which are impossible to understand without a shared language. Gestures and expressions will go so far but it is language that offers the greatest means of enjoying the culture of any country.
You might also like...