Why You Should Learn a New Language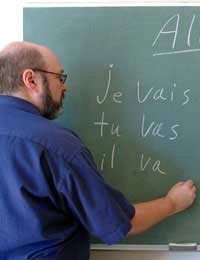 There are many good reasons why learning a new language can be useful. These range from being able to exchange a few words with local people when on holiday, through to providing enhanced career opportunities. The reasons why someone should learn a new language depend very much on the individual.
Holiday and Travel
One of the key reasons why many people learn a new language is to help them when they are travelling or on holiday. Being able to order from a menu with confidence or ask simple directions can make a huge difference when visiting a foreign country, particularly when travelling off the beaten track. Even very basic language skills can help people get the most from their holiday or travelling experience and to find out a little more about a country or culture than can be found in guide books. A little basic holiday language can be helpful for people who like to travel independently as this means that booking hotels, hiring cars and arranging trips can all be done without the need of third party agents.
Living Abroad
Unless someone is moving to an area that caters for English speakers, having a working knowledge of a foreign language is essential when living abroad. At the most extreme this might mean being able to communicate with the emergency services, while at a more day to day level this will help communicating with neighbours or asking for goods in a shop. Learning the basics of the language before moving abroad will help, as this will give a good framework on which to build.
Career
Some careers require knowledge of a second language. Even if knowledge of another language isn't necessary, it can certainly be useful and many employers will recognise this as an important skill. People may seek to learn a new language as part of a career development plan. There are language learning programs for many career paths. Business or legal language courses, for instance, are relatively common.
Business
An increasing number of people learn a language for business reasons. This can be very different to learning a language as part of a career. People operating a business may require some basic language skills in order to import or export goods. Even people who have a small shop on Internet auction websites may find it useful to have a knowledge of a few European languages, for instance, to widen their potential market.
Supporting Children at School
Many parents learn a foreign language so they can support their child with their studies. This may entail learning a language from the complete beginning or may entail just a refresher course. Learning a language together as a family can also be a good activity and help to make learning fun.
Family and Friends
Another important reason why people learn a foreign language is to be able to communicate with members of the family or friends who do not speak English as the first language. This is particularly useful where, perhaps, grandchildren are living in another country or if someone marries into a family from another culture.
New Challenge
There doesn't need to be a tangible reason to learn a new language. Many people learn a new language simply for fun. This might be because they are looking for a new challenge, enjoy learning new languages or are looking for something a little different to do.
There are a wide number of reasons why someone should learn a new language. For what ever reason, though, learning a new language can be a rewarding and satisfying activity and suitable for people of all ages.
You might also like...