Learn a Language Before Emigrating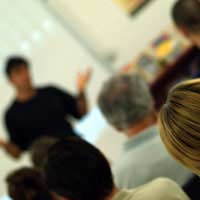 If you plan to emigrate to a non-English speaking country, it is wise to learn some of the language before you go. There are certain things you can do before emigrating to make the transition easier when you arrive there. If you have mastered some of the language, when you arrive, there will be so many ways life is made easier for you. Just think of trying to buy a house in a language you do not understand.
There are a multitude of things you will need to do as a new arrival in the country, if you have children, they will need to be enrolled in school and unless you have one, you will need to find a job. None of these things will be easy without a smattering of the language.
In some cases, such as job hunting, knowing the language is virtually mandatory. But put in place some safeguards before emigrating and you will make life a lot easier for you and your family.
Language Courses
There are many places that offer language courses over the course of a few weeks. Since it is unlikely that you are going to realise you need to learn a language just a few days before emigrating, then you should have plenty of time to do one of these courses.
Enrol on a course, which gives you a weekly class. There should be courses to suit all levels, from total beginners to people who know the basics and want to start improving the level of conversation they have. Spend a few weeks on one of these courses and your knowledge of the language will start to improve.
Immerse Yourself in the Language
When you are living in the country, the vocabulary and phrases you learn on a course will not be enough to see you through. You will need to become fluent quickly to be able to make friends and create a life in a new country. To become fluent, the best way to learn is to speak to other people who speak the language. If there are people around you who are native speakers of the language, then talk to them in their language.
If you can, before emigrating, visit the country you are going to and have conversations with local people. Go to the market and practice there. Not only will this help you to learn faster, it will help you become familiar with the replies when people answer to you – in unpredictable situations which will not occur in the classroom.
Other Practicalities
There is a raft of other practicalities, as well as language, which you should take care of before emigrating. Even moving abroad for a few months will require a lot of planning. It should not be undertaken lightly and you should plan accordingly.
Go on a few preparation trips to familiarise yourself with the area. Try to find a job or at least have interviews lined up. Similarly, try to find a house or apartment or again, at least set up some viewings. And crucially, try to make sure there are people who you know, albeit only through other people. Even if it is just someone you meet through an estate agent, at least it will feel like a foothold in a social life.
Emigrating is a huge step and a big change. Just remember that it pays to do lots of planning before emigrating. It might seem like a lot of hard work at the time but once you are there you will be glad you did. Language is one of the most important things to think about, as without being able to speak the language, a new country can be a very lonely place. But with language, the whole country opens up and a world of possibilities await.
You might also like...