Translation and Interpreting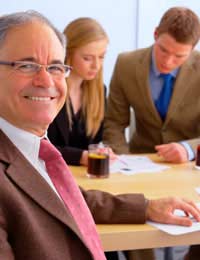 Translation and interpreting is a good career move if you are at least bi-lingual. In today's ever growing smaller world, the skills of a translator are more vital than ever.People are moving all over the world for work and pleasure and although they may learn the language once they arrive the chances are that when they first start to converse in a language they will need some kind of interpretation.
For Business
Business is the main way that the world is getting smaller. People travel between countries at the drop of a hat but of course, do not always know the language. This is especially pertinent now that countries such as China and India are emerging, or have emerged, as business superpowers. Before, there would always be someone with a basic grasp of French and/or Spanish but now, even more languages are needed. Of course, it makes sense for businesses to send people abroad who have the necessary language skills to avoid employing a translator but this is not always possible. Sometimes a person must be the one to undertake a trip because of their expertise in that field rather than because they speak the language. In these cases, even if the other person speaks their language, it can be extremely useful to have an interpreter or translator.
Court and Law
One place that translators and interpreters are hugely in demand is in places of law such as courtrooms. In these places it is imperative that the defendant or witness knows exactly what is being said to them. Therefore there is no room for mistakes and the person who does not speak the native language has to know what is being said. Here there is huge demand for an interpreter. However, in this field the interpreters are more likely to be fluent in English and a language such as Urdu, Polish or a form of Chinese - a language which is spoken by people who have actually moved to the UK and may need the help of a translator rather than a person on holiday from Europe who will have the help of their embassy.
Religion
Religious services can often be conducted in an unfamiliar language. For example, in Spain, Mass can often be conducted in Latin. These services, and the protocols which go with them will often need a translator and/or interpreter to help decipher the meaning for those who do not know the language. It is not so imperative that every word is understood as in a court of law, but important nonetheless.
Anyone who can speak more than their native language fluently must always consider a career as a translator. Translating is not an easy career choice for every single word needs to be interpreted. It is, however, a very satisfying career as you bring the understanding of the language to whomever you are translating for. And, unlike so many careers, with translation, no two days will ever be the same whether you are interpreting for one person or for many - an interpreter shares in everything.
You might also like...