Latin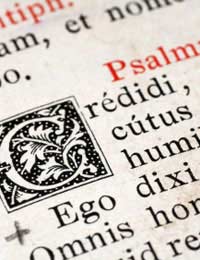 The language of Latin has its supporters and its critics. The former tend to believe that Latin should be preserved and taught as much as possible, and that it is an important pillar of European identity. But the critics will describe Latin as a dead language and one that will never by resurrected with far too much water having gone under the bridge. They say it is a waste of time to teach an archaic language when children and students could be learning a language that can be used today.
There are no native speakers of Latin these days and few people are fluent in it. In the UK, it is still a subject, which some children study, but usually at selective or fee paying schools, as it generally thought to be a subject studied by higher achievers.
Its legacy is far and wide ranging and many languages stem from it, mostly in Europe. This is because Latin was the language of the Roman Empire, which took over much of what is today Western Europe.
Latin in Italy and the Church
Latin's heritage and roots lie in Italy, from the time when the Romans ruled much of Europe. This debt, which the Italian language has for Latin, is evidenced in the fact that Latin is compulsory in many of Italy's schools, especially those for higher achievers.
It is in the Vatican City where Latin truly rules. Latin is still the official language of the Vatican City although no one uses it apart from on ceremonial occasions. It is therefore no surprise that Latin is the language of the Roman Catholic Church.
Mass across the world had to be heard in Latin until the 1960s – making it something that could not actually be understood by the less educated church goers. Even these days, in some countries and churches, which are particularly strict, mass is still said in Latin.
Latin in Academic Life and the Law
To learn Latin is still regarded as something for more intelligent students, largely due to its links with the academic world. Academics use a lot of Latin – in science for example, all plants and animals are known by their long Latin names.
Many organisations and schools have a Latin motto to lend gravitas to their pursuits of academic ideals. In fact, British Prime Minister Gordon Brown referred to his on his first day on office.
Finally, Latin also remains the language of the law. There are many terms and words used in the legal profession that are Latin. These words are not heard anywhere outside this arena but do not have a literal translation, and therefore have remained, passed down over the centuries.
Latin in Use Today
Latin's legacy is in evidence in far more general places than the Church, academic world and the Law. It is estimated that well over half of the words used in the English language today have their roots in Latin.
Latin is the language from which Italian, Spanish, Portuguese and French have all stemmed. It has been adapted over thousands of years, but if one looks at the structure of certain words in all of the languages, the link is clear to see.
Whether Latin is dead or not, as a language in its own right, what cannot be disputed is the very definite impact it has had on words today. It is a serious and weighty subject and it has left a suitably serious legacy. European languages owe a substantial debt to Latin for many of the words and forms they take today.
You might also like...