Teaching English as a Foreign Language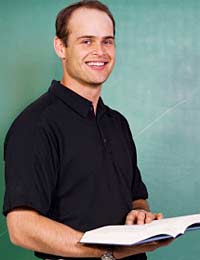 Teaching English as a foreign language is a very popular way of gaining some career advancement after university or college for many hundreds of thousands of young people every year. The acronym for teaching English as a foreign language is TEFL and this is commonly used as a word in its own right.
The most popular route for young people and graduates to get into teaching English as a foreign language is to complete a TEFL course and then look for a placement abroad. Once they have the qualification, it enables them to look for a job in many countries across the world, from Russia to Japan, living and working there and getting a real experience of what life in that country is like while helping others to learn English.
The beauty of TEFL is that the teacher does not need to learn the language of the country they want to go to in order to teach others. But of course, most people will pick up some words of the language while they are living and working there.
TEFL Courses
Teaching English as a foreign language courses are many and varied although you should always look for one which is a proper TEFL course as these are the courses employers will look for. Most of them are aimed at graduates but it is possible that some courses will also accept people who have not completed a degree. The length and intensity of the courses varies, with some being short and others being many months long.
Before you choose how long a course to do, you should think about the place in which you ultimately want to work. Some countries require TEFL teachers to have completed a longer course while others will be satisfied with fewer hours. Most will want you to have completed a course which includes some teaching practice.
Where to Work
While all countries which you work in to teach English as a foreign language will provide you will a new experience, you should look carefully at what you want to get out of the experience before you begin applying for jobs. Some countries will pay wages which will enable the teacher to save plenty of money but some will only pay enough for them to live on while they are there. If money is not important to you then one of these placements may be as beneficial to you as any other.
However, if you need money for when you return home then you will do well to consider the places which pay well. There are also volunteer opportunities available across the world which may well help people to learn English who would not otherwise have had the chance and these placements can also be a huge chance for teachers to gain valuable experience.
Teaching English as a foreign language is a rewarding experience which will benefit applicants in numerous ways. The practical career experience which it gives is invaluable but it will also equip teachers with amazing experiences and life skills which may not be found anywhere else. As well, for most people, it will be there first chance of full time work – and what better way to do it then in a new country which will be full of new ideas and experiences for the teacher as well as their pupils who are learning the language.
You might also like...