Common Spanish Phrases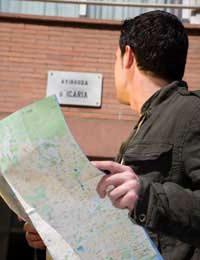 Thanks to its prevalence in Latin America, Spanish is one of the most widely spoken languages in the world. Spain is also one of the most popular destinations for UK holidaymakers so it is no wonder that many people there, especially in the tourist industry, speak English.
However, most Spaniards will regard you with warmth and hospitality if you attempt to speak a few words of Spanish. Spanish is a similar language to Italian and Portuguese and speakers of either of these will find it easy to pick up. A few common Spanish phrases will take you a long way.
There are many dialects and sub-languages in Spanish and within Spain itself. Spanish, known as Castilian, is just one of these. Also widely spoken in other parts of Spain are languages such as Basque and Catalan, although speakers of these languages should generally understand you if you speak Spanish, as they will have usually learnt it too.In fact, although they would appreciate you speaking a few words of their language, they will switch to Castilian if they think you are struggling to understand them.
In addition, the Spanish that is spoken in Latin American countries, such as Cuba and Argentina, and also Mexico, which is different again, varies considerably from Spanish. But again, speakers in these countries will usually understand you if you are trying to use a few common Spanish phrases.
Introductions
Firstly, when you meet someone in Spain, or a Spanish speaking country, it is useful to have a few common Spanish phrases under your belt. This way, they will know straightaway that you are willing to learn their language in order to be able to converse with them.
Hello – hola
Goodbye – adios
What's your name? – Como se llama?
My name is… - Me llamo…
How are you? – Como esta?
Very well thank you – Muy bien, gracias
Ordering Food and Drink
The next most useful set of common Spanish phrases to learn is those you are likely to need in a restaurant or café. Food and drink are a big part of Spanish life and meals are full of energy and warmth. Learning a few phrases to say to waiters will make them respect you just that little bit more.
I would like… - Quiero…
Do you have…? – Tienen…?
What would you recommend? – Que me recomienda?
There is no… - No hay…
The bill – La cuenta
Beer – cerveza
Water – agua
Wine – vino
Main course – segundos platos
Desserts – postres
Shopping
If you want to create a delicious meal yourself, or are looking to buy some souvenirs to take home, you will need a few common Spanish phrases to use in shops. Again, especially in tourist areas, most shopkeepers will speak some English, but it is always best to be prepared in case you meet someone who does not.
How much is it? – Cuanto es?
I like – Me gusta
How many would you like? – Cuantos quiere?
You're welcome – de nada
Stamps – sellos
Postcards – postals
Post office – correos
Spain is a wonderful country to visit and is even more so if you learn these few common phrases. Practice them often by speaking to native speakers and will pick up more as they answer you and you begin to understand.
Spanish is one of the most widely spoken languages across the world and is becoming a major language even in the USA. Only with practice and conversations with native speakers will you improve, but when you do the rewards are immeasurable.
You might also like...
Thankyou! this was really helpful, i needed to learn some basic phrases for spanish over the holidays and this really helped me :)
charlie
- 10-Apr-13 @ 8:54 AM