Common Greek Phrases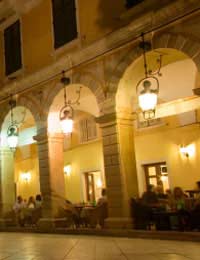 Greece is a popular holiday destination for many people but because it uses a different alphabet system most choose not to learn a few common Greek phrases before they go. And yet the warmth and hospitality of the Greek people is never more in evidence than when you try to speak a few words of their language.
Even a mispronounced phrase will elicit their approval, because you have tried to learn. And if you plan to travel to more undiscovered parts of Greece, such as inland and some of the smaller islands, you may find that some common Greek phrases come in extremely useful.
Most Greek signs and menus are also written in both the Greek alphabet and our own, meaning you do not have to learn the new alphabet system to gain a basic understanding of the language. Below, the common Greek phrases are transcribed into the English speaker's alphabet too.
Introductions
Introduce yourself in Greek and people will warm to you at once. A few common Greek phrases are all it will take to get by and be able to make that initial contact.
Hello, goodbye (informal) – Yia sou
Good morning – Kalimera
Good evening – Kalispera
Goodbye – adio
How are you? – Ti kanis?
I'm fine – Kala ime
My name is – Me lene
What's your name? – Pos se lene?
Ordering Food and Drink
Food and drink is a big part of Greek life and will undoubtedly play a major role in your holiday there. Fresh cheeses and bread, locally grown fruit and local wine are all big parts of Greek life – not to mention the speciality tipples of Retsina, Metaxa and Ouzo.
So, although most restaurants employ English-speaking waiters, a little knowledge of common Greek phrases will go a long way.
The bill please - To logariasmo Parakalo
Do you have? - ehete
Bread - psomi
Beer - byra
Cheese - tyri
Chicken - kotopoulo
Milk - ghala
Water - nero
What do you suggest? - Tee mu pro teenetay
Cheers – yamas
Shopping
Most people will want to indulge in a little shopping during their holiday. If you are travelling and staying in self-catering accommodation, this will be more important than ever.
You will need to know a few common Greek phrases to enable you to go to the shops and buy ingredients for a meal.
How much does it cost? - poso kani?
I would like to buy - Tha Ithela na agoraso
Do you accept credit cards - Pernete pistotikes kartes
One kilo, two kilos - enna keelo, dheeo keela
That's all – Afta
Directions
When you are running late for a ferry or have been walking around the same small town looking for a bank for several hours, you may want to stop someone and ask them, using a few common Greek phrases, if they know the way to the place you are looking for.
Where is the… - Parakalo…
Can you show me the road to… - Parakalo o dhromos yia…
Where? – Pou?
Bus station – Praktorio leoforion
Harbour – limani
How many kilometres? – Possa hiliometra?
Left – Makria
Right – dhexia
Straight on – Katefthia, isia
Take these phrases with you when you go to Greece and remember that practice makes perfect. You may only have a few common Greek phrases now but the more you speak to Greek people, the more you will learn. And the only way you can ever improve is to speak to native speakers of the language, so do not be shy, as your efforts will be positively welcomed.
You might also like...
Several of the words are translated wrong, for instance Left – Makria that means far and left is aristera there are also other once....