Common Italian Phrases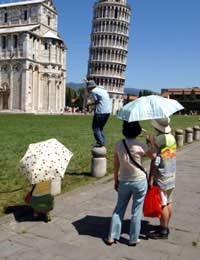 Italian is often referred to as the language of love and indeed, is a member of the Romance family of languages. It is fairly similar to Spanish and Portuguese because of the family link, and so anyone who speaks these languages should have no problem in picking up a few common Italian phrases.
Like many Mediterranean countries, Italy is a popular spot for holidays. And although many people will speak English, there is not the same prevalence of it as you may find in Spain or Greece. Therefore, a few common Italian phrases will stand any visitor to the country in good stead to say nothing of making a good impression on the Italian people.
Basics
The first thing a would-be Italian speaker will need to learn is the basics of the language, such as how to introduce yourself and find out a little about the other person. Here are some common Italian phrases to help the first time visitor do just that.
Hello - Buon giorno
Good evening - Buona sera
Good night - Buona notte
Hi/hello/bye - Ciao
Goodbye - Arrivederci
Please - Per favore / Per piacere
Thank you - Grazie (mille)
You're welcome - Prego
How are you? – Come sta? / Come stai?
Fine - Sto bene.
What is your name? - Come si chiama? (formal) Come ti chiami? (informal)
My name is – Mi chiamo…
Where are you from? - Di dove sei?
I am from… - Sono di...
Do you speak English? - Parli inglese?
I do not understand - Non capisco.
Meals Out
The Italians love their food and love eating out. Any trip to Italy is bound to involve a few meals out and therefore it is best to be prepared with a few common Italian phrases to use when in a restaurant. That way, even if the waiter does not speak English, you can still enjoy the meal.
A table for two, please - Un tavolo per due, per favore.
May I see the menu? - Potrei vedere il menù?
What would you recommend? - Cosa ci consiglia?
I'm vegetarian - Sono vegetariana.
May we have the bill please? - Può portarci il conto, per favore?
I have a table reserved - Ho prenotato un tavolo.
I would like to see the menu, please - Vorrei vedere il menu, per favore.
I would like to order now - Vorrei ordinare ora.
To start, I would like the ... - Vorrei degli …come antipasto.
Directions
If you are lost or need to know the way to somewhere, it is always best to ask. But there may be a time when the person you ask does not speak English. But with some common Italian phrases, you can hopefully make yourself understood and find the right way.
Where is? - Dov'é…?
On the right – a destra
On the left – a sinistra
Straight ahead – dritto
Cross – attraversi
Take – prenda
As time goes on and you become more comfortable speaking more than just these common Italian phrases, you will find you are able to hold longer conversations. But to begin with, these phrases will stand you in good stead for making yourself understood in simple situations.
Build upon them and you will find your Italian will improve. After a few trips and constant practice speaking the language, you will have enhanced your vocabulary to a stage at which you can hold a conversation.
You might also like...