Roots of French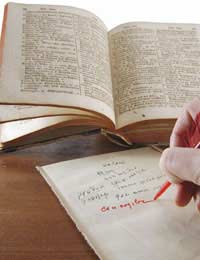 The roots of French go back very far indeed and are buried in many other languages, although no more so than in Latin. But it is not just Latin that helped to form the French language with the roots of French being firmly dug in several other old languages of the region at the time, including Germanic and the Celtic languages of Gaul – as France was known in Roman times.
Gallic French
The land now known as France was invaded by the Romans when it was called Gaul. A lot of Celtic groups lived there at the time and much of their language was picked up by the people who settled there. Although nowadays, there are not too many Celtic words that remain in French, these languages were certainly one of the main roots of the original French language, old French. In fact, some similarities can be seen between words in French and words in Celtic languages such as Welsh and Manx. These words often stem from things that were popular at the time like farming and working on the land, in the same way that new French words being picked up from US English are generally technology orientated, i.e. email, being a good example.
Germanic Influences
The French language also has roots in Germanic languages thanks to the invasions that swept the country after the Romans had left. The name of France itself actually comes from such a language, and the dialects in place in regions that border Germany are living proof of the Germanic roots of the French language. Even the place names, such as Strasbourg, are more German sounding than French sounding.
Latin
But of course, the one language that French has it's roots most firmly sunk into is Latin. In common with most other major European languages such as Spanish, Portuguese and Italian, the roots of French were Latin. Latin gave rise to the Romance family of languages, which comprises these four, and also Romanian and their shared roots are still very much in evidence today.
It is easy to see where the French roots are Latin, because it is in words that are similar in other romance languages. The title of Romance language also comes from the fact that Latin was the language spoken by the Romans and considered the socially high language. A good example of this is the word book, in French, 'livre', Spanish, 'libro', Italian 'libro' and Portuguese 'livro'. The shared roots are clear to see for anyone, even without a basic knowledge of any of the languages.
The roots of French, like the roots of any language, are not clear-cut. Like the languages of most countries, it came into being over a period of thousands of years and arrived at the state we know it now by constantly changing. Languages are fluid – they take on different words and turns of phrases depending on outside influences and each generation can add their own special influence to their language. No language remains the same unless it is dead, such as Latin, at which point it ceases to be used anyway, and thus cannot change anymore. But when looking at the roots of a language, although pinpointing the exact spot the language started to exist is not possible, we can at least see where it took its ideas from.
Language Tutoring is sponsored by Purely Energy, who have funded a lot of our content. If you are looking for a low cost business energy supplier, take a look at their website.
LANGUAGE TUTORING IS FOR SALE.
This website is for sale [more info].
You might also like...