History Of German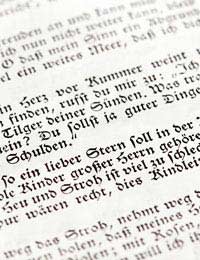 The history of German is a very long and detailed one. German in fairly unique among the major European languages in that it did not descend from Latin. In fact German largely stems from Germanic, which formed the group of languages that today not only includes German but also English – although Latin influences can be seen in English from time to time.
Middle Ages
German, as it is today, started to come into being at the beginning of the Middle ages. Here the history of German becomes very convoluted as there are many different forms of the language, which are all themselves separate from West Germanic. But German in the Middle Ages broadly fell under high German and low German. Within these sets were the subsets of Old High German and Old Low German or Old Saxon (one of English's predecessors). Which language you spoke would have depended on where you lived. Middle High German and Middle Low German followed them and then, towards the end of the Middle Ages there was a further shift for high German with Early New High German.
Low and High German Amalgamated
In the 18th century, low and high German began to come together to form German. However, low and high German do still exist as dialects to this day. Their names come from the land, so low German is spoken in areas near the sea and near Holland, while high German is spoken in the mountains. Of course, their differences are dialectical now and it would be possible for speakers of either to understand the other, but it is interesting to see that these differences have persisted. In the area of Alsace, a third regional language is spoken – Alsatian.
Modern German
Standard, or modern, German is now the official language of the country but even this has not come about without upheaval. Until very recently, the late 1990s, there was no actual standard of spelling for the language and some areas spelt things differently. But now a standard spelling system has been introduced, with the 'ss' sound being inserted for example. This means that although students of the language should find the same spellings everywhere, they must not be surprised if, on looking at an older textbook, they see unfamiliar spellings. Until very recently the traditional and reformed spellings co-existed but the old spellings have now been phased out completely.
The history of German, like the history of many languages, is an interesting and diverse one. However, German has been less touched by outside influences than other languages, particularly the Romans. Latin has left a print on many languages of Europe but on German there is barely a mark. The language comes from their indigenous people, which makes it so different from the Romance languages of its near neighbours. These languages have so many similarities it is easy to spot them, as their shared Latin heritage binds them together. But with German, this is not so. It stands alone, a proud and noble language, but one that is often found to be harder to learn by people who have knowledge of the Latin base languages.
You might also like...